With You All The Way - Kerie: Patient Stories
Beating breast cancer surrounded by love, support and top-notch care
About one in eight women will battle breast cancer
But many more lives are affected. Spouses, children and loved ones also share in this difficult, life-changing experience. And the caring support they offer during this journey can make all the difference.
Just ask Lake Tapps residents Kerie Swepston and her husband, Aaron. When their lives were affected by a breast cancer diagnosis, Kerie and Aaron turned to our area's best care at Virginia Mason Franciscan Health.
An unexpected discovery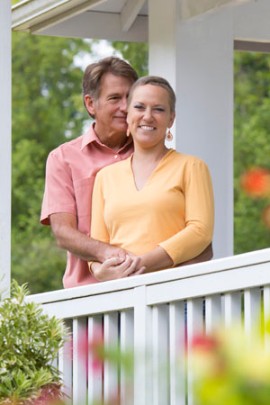 An annual exam at age 45 didn't sound any alarms for Kerie. She received a clean bill of health. Her doctor gave her a referral for a mammogram since she was due, but Kerie felt fine and didn't see a need to rush to schedule the appointment. The doctor had performed a breast check during the exam and there were no lumps, and Kerie hadn't felt anything suspicious during previous self-exams.
That changed a month later when her hand brushed against a lump while she was undressing one evening. She went to Aaron and had him feel it too. He agreed — it didn't seem normal. They decided she should have it checked. After a mammogram and subsequent biopsy, Kerie learned she had breast cancer.
Better care and communication
Kerie and Aaron became frustrated as they attempted to connect with various specialists at another hospital. They had been told that the type of cancer Kerie had was aggressive, but they were having difficulties getting appointments to be seen right away. Luckily, Kerie's primary care physician saw how things were progressing and referred her to Sibel Blau, MD, a medical oncologist at Northwest Medical Specialties/Rainier Hematology-Oncology in Puyallup.
Kerie was surprised – and delighted – to learn that Dr. Blau wanted to see her the next day after regular business hours. "To me that said, ̀We are taking care of it right now,'" Kerie said.
As his wife began treatment, Aaron had lots of questions. Dr. Blau helped him to find his footing by explaining what he could expect. "Dr. Blau is brilliant but she doesn't talk like an academic. She uses laymen terms so you understand everything. And it wasn't like I was bothering her to get questions answered that she has answered for every other patient. She answered every question as if it was a fresh question," he said. "She helped to take away some of the fear by eliminating the mystery."
More treatment options
Dr. Blau is involved in and familiar with current breast cancer research. "We have clinical trials available to our patients. This means new drugs that aren't normally available that patients can access. We have a much bigger program than other hospitals, and we have a continuity of care that is incredible," noted Dr. Blau. "I think that's what makes us special."
At Virginia Mason Franciscan Health, we're in it together
After a cancer diagnosis, there is a lot of information to take in and decisions to be made. That's why the experts at Franciscan Cancer Center are here to provide you with clear information and to address any concerns. Our area's leading team of doctors, nurses and staff coordinate care to make sure everyone is on the same page. This means that starting from the moment we first see you and all the way through your treatment program, you get high-quality, compassionate care.
Cancer care at Virginia Mason Franciscan Health is provided by expert networked partners including: Virginia Mason, Northwest Medical Specialties/Rainier Hematology-Oncology, Tacoma Radiation Oncology, TRA Medical Imaging and the Puget Sound Institute of Pathology.