Family Birth Center at St. Michael Medical Center - Silverdale
When you're expecting a baby, your top priority is expert health care and support for your family. At Virginia Mason Franciscan Health, we focus on the needs of your entire family throughout the childbirth experience.
Excellent care for pregnancy and childbirth
Each year, more than 2,100 babies draw their first breath at St. Michael Medical Center in Silverdale. We offer you:
Obstetrical care
A 10-bed, Level II special care nursery with 24-hour care for babies born at 33 weeks' gestation
24 hours a day, seven days a week OB hospitalists: Board-certified physicians specializing in obstetrics and available on-site for labor and delivery
Vaginal birth after cesarean (or VBAC)
Breastfeeding support with our certified lactation consultants, including inpatient room visits and outpatient follow-up (by appointment only)
Made-to-order food service at our cafeteria, Chipmunk Grill
Pelvic physical therapy program for pregnancy and postpartum conditions
Our Level II special care nursery is the only one serving the Kitsap and Olympic peninsulas. We also partner with board certified pediatricians, Seattle Children's Neonatal Nurse Practitioners and Specialty Trained Neonatal Registered Nurses who provide 24 hours a day, seven days a week care for ill newborns in this dedicated unit.
Private, comfortable birthing suites
We designed our birthing suites for all stages of birth—labor, delivery, recovery and postpartum. Our spacious, beautifully decorated suites provide many of the comforts of home, including:
Jetted soaking tubs to help ease labor pains
Refrigerators, microwaves and televisions
Sleeper chairs for your support person
State-of-the-art fetal monitoring for safe labor and delivery
Quick access to operating rooms for C-section, if needed
Award winning
The International Board of Lactation Consultant Examiners® (IBLCE®) and International Lactation Consultant Association® (ILCA®) have recognized St. Michael Medical Center for excellence in lactation care. Additionally, St. Michael has received the Gold Breastfeeding Friendly Washington Award and has received a Baby-Friendly Hospital designation by Baby-Friendly USA.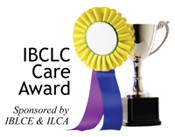 Take a tour and preregister for admission
With our Stork Express preadmission and tour program, you can do most of the paperwork before your delivery date. During the tour, you'll learn more about your birth experience and meet some of our staff. Register online or call 1-888-825-3227.
Download our free guide
Preparing for childbirth can be overwhelming. To help you get started, we've created a free downloadable guide that provides everything you need to know as you take your first steps toward motherhood with Virginia Mason Franciscan Health.