For Referring Physicians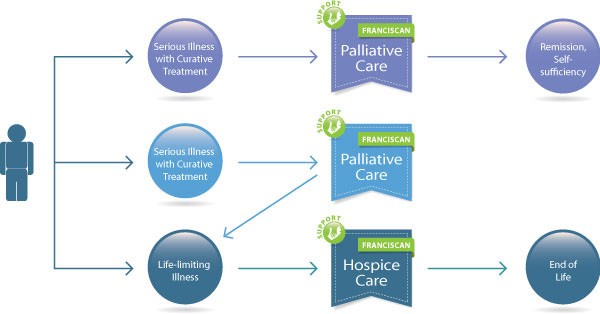 If you're a physician with patients who have end-stage diseases, consider palliative and hospice care at Virginia Mason Franciscan Health. We offer comprehensive services for end-of-life care, including medical and nursing care and support services.
Committed partner for hospice and palliative care
For providers and practitioners at long-term care facilities, Virginia Mason Franciscan Health delivers the highest quality palliative and hospice care for your patients. Our care team members are employees, not contractors. As specialists in hospice and palliative care, we collaborate with you as medical colleagues for your patients' best possible care plan.
To help make the transition and service provision as smooth as possible, we offer our services at the patient's home or in a hospital or other facility.
Who should be referred for hospice care?
For patients with potentially terminal illnesses, it's never too early to begin planning for the end stages of their lives. Starting the discussion at diagnosis allows your patients to fully participate in the decision making for these major life changes that affect them and their families. The sooner you call on Virginia Mason Franciscan Health, the sooner we can help you prepare your patients for these important end-of-life decisions. Learn more about when to consider a hospice referral.
Our hospice and palliative services for your patients
At Virginia Mason Franciscan Health, our health care professionals work closely with physicians, their patients and the patients' families on an individualized care plan to support every kind of care need. Learn more about our services, including:
Watch this webinar on changes in the hospice environment and how hospice care can support your practice.

How to refer your patients
Whether you're a Virginia Mason Franciscan Health physician, community physician or partner at a skilled nursing or assisted living facility, learn how to refer a patient.
Web resources for hospice and palliative care
Clinical care resources
End-of-life care resources