Stroke Center
Stroke is the leading cause of adult disability in the United States. That's why it's critical to call 911 at the first sign of stroke. Learn the signs of stroke.
Bobby Wagner Teams Up with the Seattle Seahawks and Virginia Mason Franciscan Health to Support Stroke Care and Education. Learn more.
At Virginia Mason Franciscan Health, we offer expert emergency stroke care in all our hospitals' Emergency Services departments. Our highly skilled stroke teams are specially trained to stop—or even reverse—the effects of stroke.

Very few hospitals in the Northwest are equipped to handle every type of stroke, in every situation, every second of the day. You can count on Virginia Mason Franciscan Health for comprehensive stroke care 24/7. This is vitally important because when it comes to stroke, every second counts.

While some of our stroke centers see among the highest volume of patients suffering from stroke symptoms in Washington state, we don't take an assembly-line approach to care. Instead, we focus on each individual's medical care, personal goals, rehabilitation and family situation. That's why many people who had initial stroke care at another facility come to Virginia Mason Franciscan Health for their follow-up care.
Nationally recognized for quality achievement in stroke care
Our health system offers the highest level of stroke care available. Each hospital has a dedicated stroke team ready 24 hours a day, seven days a week to be activated whenever a "code neuro" patient enters our doors. That level of preparedness—combined with our advanced diagnostics, treatments, technology and accredited rehabilitation facilities—has helped us earn national recognition for excellence in stroke care, which means you can rest assured you're in the best hands.
St. Anthony Hospital, St. Anne Hospital, St. Clare Hospital, St. Francis Hospital, St. Joseph Medical Center, St. Michael Medical Center and Virginia Mason Medical Center have all received the Get With The Guidelines® – Stroke Gold Plus Quality Achievement Award from the American Heart Association/American Stroke Association.
Stroke Gold Plus = 24 consecutive months of meeting 85% compliance on seven quality measures; Plus = in addition to the seven quality measures, hospital meets at least 75% compliance for 24 consecutive months on at least five of eight additional quality measures.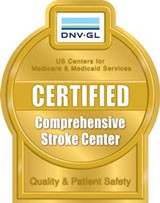 Additionally, St. Joseph Medical Center and Virginia Mason Medical Center are certified as Comprehensive Stroke Centers. Certification involves a rigorous assessment process that examines how well an organization meets strict standards and clinical best practices.

Emergency care for stroke
Stroke care begins the minute you call 911. When they arrive, your medic team will immediately begin monitoring the patient and notify our hospital "code neuro" team to begin preparations. Emergency providers, registered nurses and other "code neuro" team members are ready 24 hours a day, seven days a week to provide lifesaving measures for people who are having a stroke. These teams follow national quality standards to consistently meet or beat a 45-minute goal from arrival to providing the clot-busting drugs to patients suffering from acute ischemic stroke. By achieving these high standards, we're able to improve outcomes for our patients.
Many people suffering from stroke are able to return home following a brief stay in the hospital. St. Joseph Medical Center in Tacoma has a Neuro Intensive Care Unit (ICU) with registered nurses and other clinical staff who provide specialized care for acutely ill patients recovering from serious ischemic stroke, aneurysm, and other conditions of the brain, head, neck and spinal cord. We also offer inpatient rehabilitation services, including therapy services and education.

Rapid Access TIA Clinic reduces risk of stroke
What if you suddenly experienced a stroke symptom—weakness, slurred speech, a change in vision or numbness in your body—that completely disappeared after a few minutes? You may have just suffered a transient ischemic attack (TIA), sometimes called a mini-stroke or warning stroke in which the blood supply to part of the brain is cut off for a brief period. A TIA is a warning sign that requires quick action to reduce stroke risk.
The Rapid Access TIA Clinic, part of the Center for Neurosciences & Spine at Virginia Mason Franciscan Health, provides fast, comprehensive treatment designed to reduce stroke risk in patients who have had a TIA—all without admission to the hospital.
Low-risk TIA patients can be well cared for in Virginia Mason Franciscan Health's Rapid Access TIA Clinic, following the appropriate diagnostic work-up. The Rapid Access TIA Clinic combines both medical and lifestyle interventions known to reduce stroke risk at a time when patients are often motivated to make a change. Medications to lower blood pressure and cholesterol and prevent blood clots can be prescribed and are shown in studies to drastically cut the risk of stroke. But lifestyle changes are given equal weight. Patients receive support to quit smoking, eat a healthier diet, and find a form of exercise that works for them. Good control of conditions like diabetes and sleep apnea also helps to improve vascular health.
For more information, call 206-341-0420 or 253-274-7505.
Stroke rehabilitation
Patients and their families are involved from the beginning to set specific goals. Each person has an individualized case review by our standards-of-care expert team. It's part of the Stroke Center's advanced disease certification program—and part of the team's commitment to their patients.
Inpatient stroke rehabilitation
Inpatient rehabilitation begins immediately. Physical therapists, occupational therapists and speech therapists create plans focused on each patient's needs and goals. This will put you on the road to recovery immediately.
Outpatient stroke rehabilitation
Additionally, outpatient neurorehabilitation services are available at several locations around the Puget Sound area and can help improve function, increase independence, and maximize safety at home.
Stroke education
We also consider stroke education to be vitally important. One in four people who have a stroke will have another one at some point. Our goal is to avoid that. We work with you and your family to understand your personal risk factors and set up a health plan to minimize stroke risks. 
Studies show that people who continue to participate in some sort of rehabilitation for up to 18 months after a stroke do get better. The brain is amazing. It continues to learn and make new connections all the time.
Recovering from stroke is a journey. At Virginia Mason Franciscan Health, we join with you on that journey.